in an Integrated Technology Lesson






Before starting to use PowerPoint in the classroom, read Scoring PowerPoints by Jamie McKenzie
"Powerpointing can become a goal in itself - an unfortunate example of technology done for technology's own sake"






Task:

Congratulations! You have just been elected Governor of the State of ________. [ Select a state ] The Office of Tourism has just informed you that not enough people are visiting your state, and you must find a way to attract more visitors. You and your Public Relations Director are to create a presentation to display three outstanding features of the state.

Collect information from the Internet, encyclopedia CD's, books, reference materials, welcome center brochures, Email to the tourist division of the state you select, or any other methods you choose. After the research is done, decide what three features you want to include in your presentation. These features will be presented in a PowerPoint slide show.






Use the following Internet resources to collect information about the state you selected:






Slide Suggestions:

Slide 1

Title slide may include name of your state, a slogan inviting people to visit, and picture(s)

Slide 2

List the three outstanding features of your state.

Slides 3, 4 & 5

On each of the next three slides, give three facts about each outstanding feature you want to promote in your state.

Slide 6

Concluding statement

Requirements for your slide show:
Click on the buttons to get help with a requirement
1

There must be a transition between each slide

2

Clip art must be used on at least 2 slides

3

You must use at least one graphic taken from the Internet

4

At least 3 slides must be animated

If you feel comfortable with the task, you may ignore the remainder of this tutorial. However, if you are new to PowerPoint you should work through the lessons in order.

Tutorial topics covered include:

If you are doing professional development training with this set of lessons, download a pre-training and post-training survey to evaluate your training effort.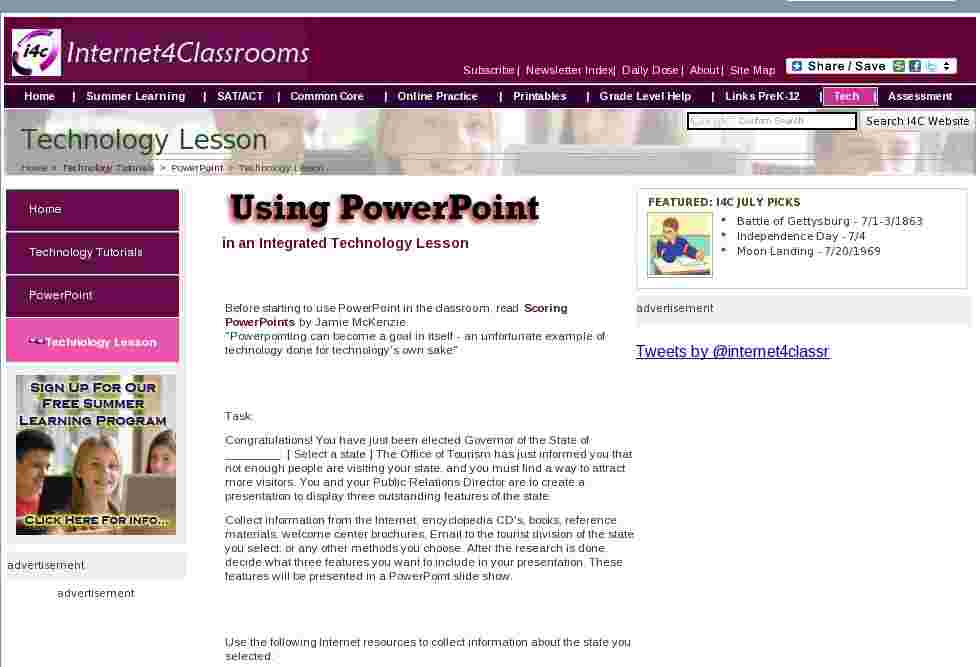 Custom Search