Using different slide views


Five different views are available for a slide show

This panel of buttons at the bottom of the window allows selection of the views


Slide View

You must be working in Slide View to edit text, images, or colors on the slide.
Outline View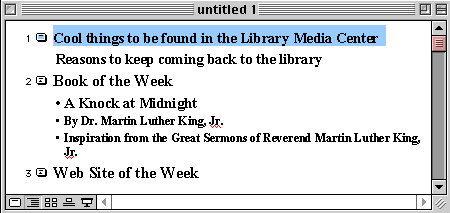 In outline view you can quickly scan the entire presentation, edit text, but not the color of text, or do a spell check. You could also print the outline view to keep for speaker's notes as you present your show.
Slide Sorter View
This is one of the most useful views. From this view you can:
Click and drag to move a slide to a new position in the presentation
Copy a slide and Paste a duplicate into the presentation
Set a Transition for each individual slide or for the entire presentation
Choose the method of Building text
Get an overview of what the entire presentation will look like
Notes Page View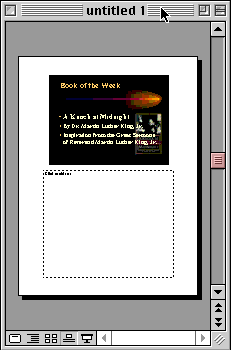 This view suggests two principal uses:
Print a set of these for use as speaker's notes. In each notes section below the slide image you might record important points you want to be sure your audience knows about before going to the next slide. Do not try to say everything you want to say on the slide.
Leave the notes area blank and print a set of these for each person in your audience. Encourage them to make notes regarding the slide.
If you have other uses to suggest, please send me Email . To see uses others have suggested, click here .
Slide Show
Clicking this button will begin the slide show.
You may also begin the show by selecting Slide Show from the View menu or by selecting View Show from the Slide Show menu.
Before you present the slide show for the first time you should go to the Slide Show menu and select Set Up Show.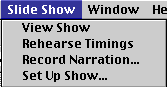 Here is where you find the command to Loop continuously until 'Esc' which will allow your presentation to scroll over and over as students enter your media center.
Go to Animating text
Go Back to Using PowerPoint for presentations