Links for K-12 Teachers | Assessment Assistance | On-Line Practice Modules | Daily Dose of the Web

Capturing Images in Netscape Communicator

Browse the Netscape Knowledge Base
Using the Menus | Using the Toolbar | Getting out of a Frame | Managing Bookmarks | Scrolling Techniques | Capturing Images
Capturing Images in Netscape
You have just seen an image on the Internet that you want to save. If you are using a Macintosh computer click on the image and do not let go of the mouse button. The following dialog window pops up: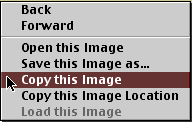 Options available (Macintosh):
Open this Image - A new web page opens with just the image. This is useful if there are several images in the area. This choice will allow you to see if the image is a single image, or a collage of images. If you are not sure, this should be your first choice. You can always click on the image in the new page and see the same dialog window.
Save this Image - A dialogue window pops up giving you the opportunity to save the image wherever you want to. For short term projects I recommend saving to the desktop. That makes finding the image easy.
Copy this Image - [A Macintosh option only - Unless you are using Internet Explorer] Place the image onto the clipboard. You can then go to an open application and paste the image directly. You may also paste the image into the scrapbook.
Copy this Image Location - This does not copy the image, it copies the image location. As an example, at the top of this page there is an image of the Netscape logo. If you choose this option all you do is copy the link that will allow you to see the image. Following the link is the same as choosing the first option, Open this Image. The image location is:
IBM users - You open a window similar to the one above, by clicking on the image with the right mouse button. The Copy this Image option is not there.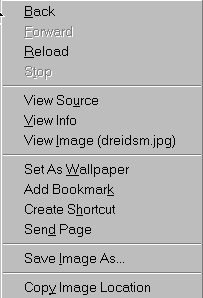 Options Available (IBM):
View Image - A new web page opens with just the image. This is useful if there are several images in the area. This choice will allow you to see if the image is a single image, or a collage of images. If you are not sure, this should be your first choice. You can always click on the image in the new page and see the same dialog window.
Save Image As- A dialogue window pops up giving you the opportunity to save the image wherever you want to. For short term projects I recommend saving to the desktop. That makes finding the image easy.
Copy Image Location - This does not copy the image, it copies the image location. As an example, at the top of this page there is an image of the Netscape logo. If you choose this option all you do is copy the link that will allow you to see the image. Following the link is the same as choosing the first option, Open this Image. The image location is:
Browse the Netscape Knowledge Base
If you have questions about using a Netscape browser you might go to this index to lists of technical articles for various Netscape browsers, current and older versions. You can select a link below to view all of the technical articles that apply to the product you've selected, or use the search engine to look for a specific topic. Downloading other versions of Netscape
Netscape Communicator 4.5 - available for Mac 7.6 or higher or Windows 95/98/NT
Netscape Communicator 4.0 - available for Mac or Windows 3.1/95/98/NT
Archived versions including:
Other Netscape tutorials
| | | |
| --- | --- | --- |
| Custom Search | Visitors since November 2000 | Memphis, TN |