June 2010 Features

Our Picks for June 2010 include a variety of topical areas of interest to teachers, parents and students. To suggest a topic for July 2010, be sure to email us at the address below.

Free Summer Learning Program

Did you know that......


All students experience learning losses when they do not engage in educational activities during the summer.
On average, students lose approximately 2.6 months of grade level equivalency in mathematical computation skills during the summer months.
Research shows that teachers typically spend between 4 to 6 weeks re-teaching material that students have forgotten over the summer.

Click here for information on our Free Summer Learning Program, which is customized by Grade as an aid to minimize your child's learning loss over the summer.

Additional Activities for:

Flag Day: Learn the Pledge of Allegiance, Facts on Flags, and Arts and Crafts Activities.
Summer Projects: Animal Learning Crafts, Family Birthday Calendar, Craft Recipes, Gardening
Physical Education - Play by the Rules: Rules of Play for sports and games, from Archery to Ultimate Frisbee (no Z)




Featured Resources at Internet4Classrooms.com:

Resources for families and teachers. Information includes reading help, handwriting help, behavioral resources, classroom strategies and much more!
Internet4Classrooms has a special section just for parents with information and resources for homework help, safe and fun websites for children and other internet resources. This section is growing daily, so keep checking for new sites and feel free to let us know if there are any free sites or great blogs that you find interesting and helpful.
Did you know that Internet4Classrooms has online technology tutorials? If you need some instruction in Microsoft Office, including Word 2007, Excel 2007, Powerpoint 2007, you've come to the right place. We also have developed extensive resources for Macintosh and Windows troubleshooting and keyboard shortcuts (Mac) (Windows). Browse this section to find resources, such as Creating Graphic Organizers in Excel, Making a Game Template in Powerpoint and much more!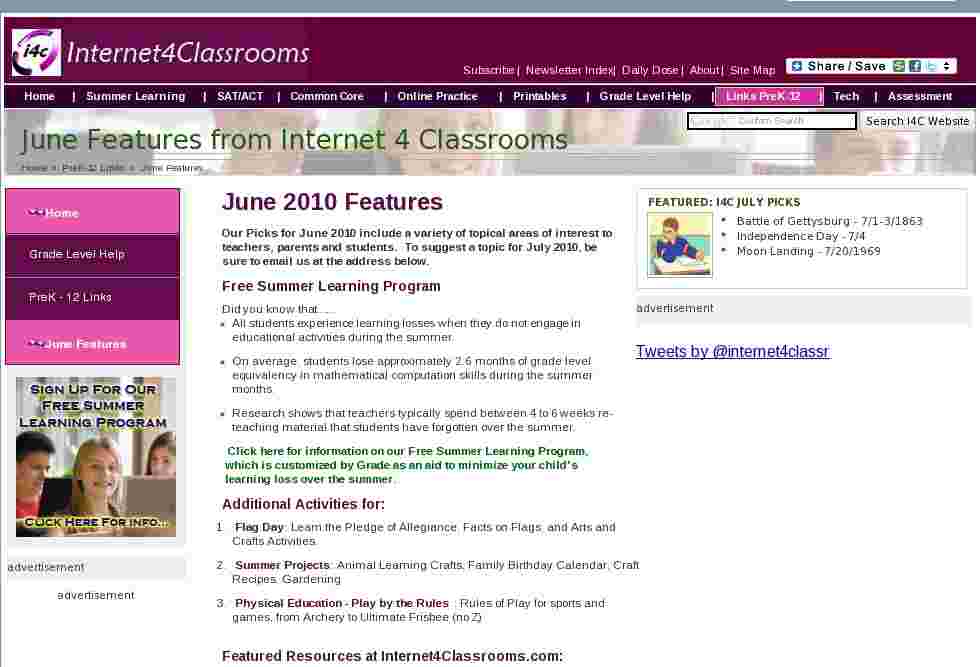 Custom Search