Spring/May 2010 Featured Picks

Internet 4 Classrooms needs your help! Please click this link to take a short demographic survey that will help us make sure that our ads continue to be appropriate and useful to you. Thanks so much for your help!

Our Picks for Spring/May 2010 include a variety of topical areas of interest to teachers, parents and students. To suggest a topic for Summer 2010, be sure to email us at the address below. We are dedicated to finding you the best of the web to fit your individual needs.

May Commemorations:

Mount St. Helens erupted on May 18, 1980. Learn all about Volcanos. Also, check out this great webquest, "Will That Volcano Spoil Our Party?"
National Transportation Month#3 is "America on the Move" - from the Smithsonian Institution
National Turtle Month - Visit our Elementary Science section to view Science Activities and Lessons for Grades K-8 for Animals and their Habitats

Literacy

Children's Book Week - Find resources for Elementary Reading and Writing and Middle/High School Language Arts. Includes interactive activities, lesson plans and a "Poem a Day".

History

The anniversary of Brown v. Board of Education is May 17. Visit our Black History resource section for links to lesson plans, activities and historical sites.
Learning activities for American History - Memorial Day is May 31.


Click here for a May printable calendar for use in the classroom or home from Teachervision.com.



Featured Resources at Internet4Classrooms.com:

Here are many Activities to Learn About Money. Why do we pay taxes? When is new money issued? What currencies are used around the world? Why should we save money? These activities for Grades K-12 will help children to learn about counting money and economics at the appropriate grade level. Parents and teachers can also find helpful resources for determining allowances, teaching and performing budgeting, economics and more!
Just for Parents - Internet4Classrooms has a special section just for parents with information and resources for homework help, safe and fun websites for children and other internet resources. This section is growing daily, so keep checking for new sites and feel free to let us know if there are any free sites or great blogs that you find interesting and helpful.
Did you know that Internet4Classrooms has online technology tutorials? If you need some instruction in Microsoft Office, including Word 2007, Excel 2007, Powerpoint 2007, you've come to the right place. We also have developed extensive resources for Macintosh and Windows troubleshooting and keyboard shortcuts (Mac) (Windows). Browse this section to find resources, such as Creating Graphic Organizers in Excel, Making a Game Template in Powerpoint and much more!



Calendar: Holidays & Observances:

May 1 - Mother Goose Day
May 3-7 - Teacher Appreciation Week
May 5 - Cinco de Mayo
May 9 - Mother's Day
May 10-16 - Children's Book Week
May 12 - National School Nurse Day
May 16-22 - National Transportation Week
May 17 - Brown v. Board of Education (1954)
May 18 - Mount St. Helens Erupted (1980)
May 23 - National Turtle Day
May 30 - Lincoln Memorial Dedicated (1927)
May 31 - Memorial Day in the U.S.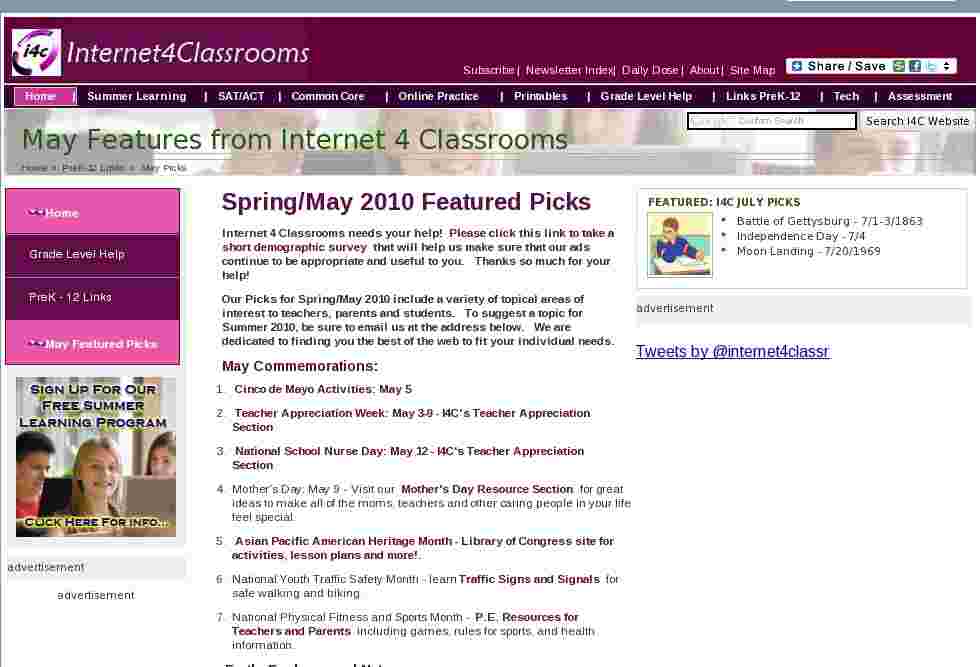 Custom Search