Database Ideas
Microsoft Works 4.0 (Macintosh)
Entering data into the database
Step 1 - Select List view from the View menu at the top of the window.

This gives the standard view of a database, organized into rows and columns. I have chosen to create a database of videotaped movies.

Step 2 - Begin entering data into the cells. You can use the mouse to click into a cell or use the arrow keys to move around the database. The tab key selects the cell to the right. The return key selects the cell below. In a new database you can not click into a cell below row 2.
Step 3 - Editing the database
If a field is not wide enough place the cursor on the line between the title of the field and the next field to the right. When your cursor turns into a double-headed arrow, click and drag the field wider.

To change the location of a field move your cursor into the title of the field you want to move. Your cursor turns into a hand. Click and drag the field name onto another field name. Let go of the mouse and the field will move to its new location.

To correct a misspelled field name click on the field name in the gray bar, select Format from the Menu bar at the top of the screen and choose Field...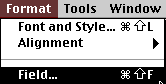 The window that opens will allow you to correct spelling, but you can also change how data is displayed in the column. By selecting Number, Date, or Time you will be given a window offering several formats for each type of data.

From this same menu you may format the alignment of text within a cell or change the font and style.

You may decide that you need to add or remove an entire field to/from the database. Go to the Insert menu to make those changes
Other database pages
| | | |
| --- | --- | --- |
| Custom Search | Visitors since November 2000 | Memphis, TN |
Internet4Classrooms is a collaborative effort by Susan Brooks and Bill Byles


Return to Internet4Classrooms home