Web 2.0 Tools

Beware: Some of these tools may have inappropriate things on them since they are free for public usage. If you use these, please put a link to go directly to your own personal area, instead of the main site. Some of these may also be blocked by your school filters.

Web 2.0 is about users and content instead of surfing on the Internet. It's more like what can the Internet do for me as a creator, a collaborator, an active participant, rather than a passive viewer of what is out there on the web




Apps for the Android - Free educational apps to download on your Android.
Apps for the iPod touch and iPad - A work-in-progress index of FREE educational apps to download on your iPod touch or iPads. Great for use in the classroom setting. Please email us if you have any recommendations not on our list!
Audio/Podcasting- Online audio broadcasting. Find information about how to create and modify audio files.
Blogs - Information on creating, maintaining, teaching with and sharing blogs.
Collaboration - Share and manage your documents with these tools.
File Converters - Change a variety of different file formats into another format with these tools.
Graphic Organizers - Use these tools to create a picture representation of relationships betweens facts, terms and ideas.
Html Editors - Html is used to create web pages. Use these tools to create tags for the creation of a Web site without the need to memorize HTML code.
Open Source - Open source are programs that have not been copyrighted and the coding is free for everyone to look at and modify if they want. Many of these tools can be used in an educational setting.
Organization Tools - Many tools are on the Internet to help with your organization such as: digital note-taking, to-do lists, project management, and personal organization tools.
PLN Tools - Personal Learning Network - A PLN is a collection of people with whom you engage and exchange information, usually online. There are many tools that help you in creating your own personal PLN for professional development and collaborations with people from around the world.
Presentation Tools - Presentation tools are for sharing content with others and allow the user to insert text, audio, pictures, and videos. Use these web2.0 tools to share information in attractive formats.
Social Bookmarking - Social bookmarking on the Internet allows users to store, save, categorize and organize a personal collection of bookmarks and share them with others. There are numerous tools on the Internet that have these abilities and more for sharing websites with others.
Survey Makers - Create your own surveys with these easy to use tools.
Video / Photo - Editors and enhancers for video and photo files.
Web Browsers - Browswer that can help you when you are offline or too busy to read it now.
Wiki - Wikis are websites that allow easy creation and editing of any number of interlinked web pages by a group of people to collaborate information.
Word Cloud Generators - Turn your text into word clouds, visual graphic displays, with these tools. Each tool has individual features that set them apart.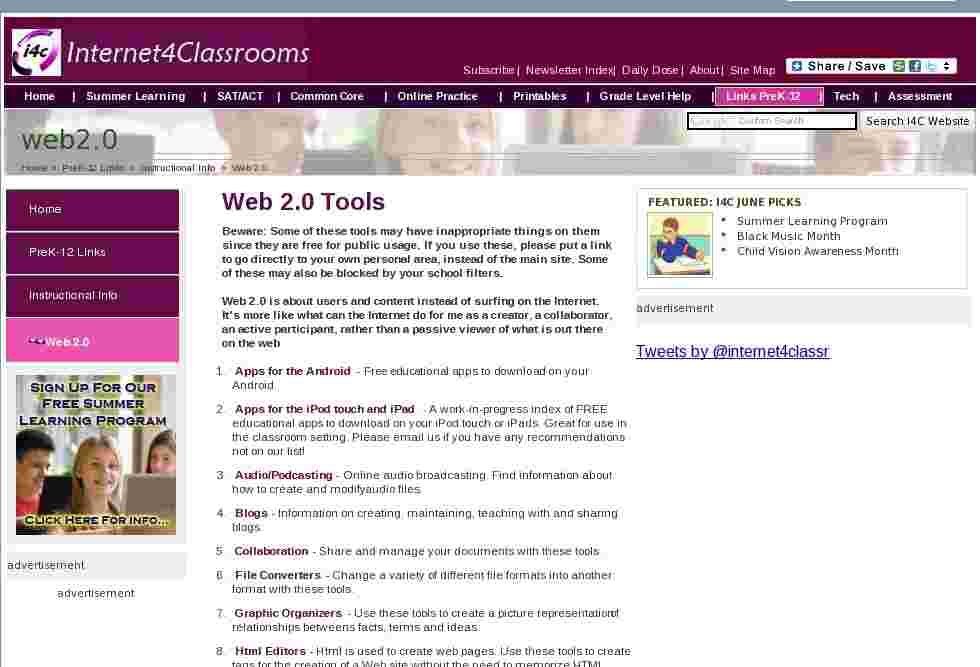 Custom Search