Links verified 01/05/15

ACT Math Question of the Day - Use the calendar to select one of the following topics: Algebra, Intermediate Algebra, Plane Geometry, Coordinate Geometry, and Trigonometry. Once the problem is on the screen, right click the problem for a step by step explanation.
ACT Question of the Day - from number2.com
Analogy of the Day from Fact Monster (Our Language Arts page has more analogy sites )

The Great Auk, Knowledge Master of Ceremonies , has a question for you. Select your subject area and select a question for the day!

How Stuff Works is a great site on the web that explains... well, how stuff works! Each weekday the author answers questions submitted by readers.

Look on the chalkboard at Math Cats to see the question of the day - Just wave your magic wand (cursor) over the mixed up letters on their chalkboard to see the answer.

Math Question of the Day - for grades 2 through 5 , also, can sign up for the question via email every day

SAT Question of the Day - from number2.com

SAT Question of the Day from the College Board Online. You get an answer, an explanation of the answer and a rating of the difficulty of the question. Rx - visit this site every day!

Who's Who and What's What - Current events quiz based on the NY Times. See what you know about the images. Each image relates to an article published on The New York Times on the Web. There are links to the articles referenced in the quizzes.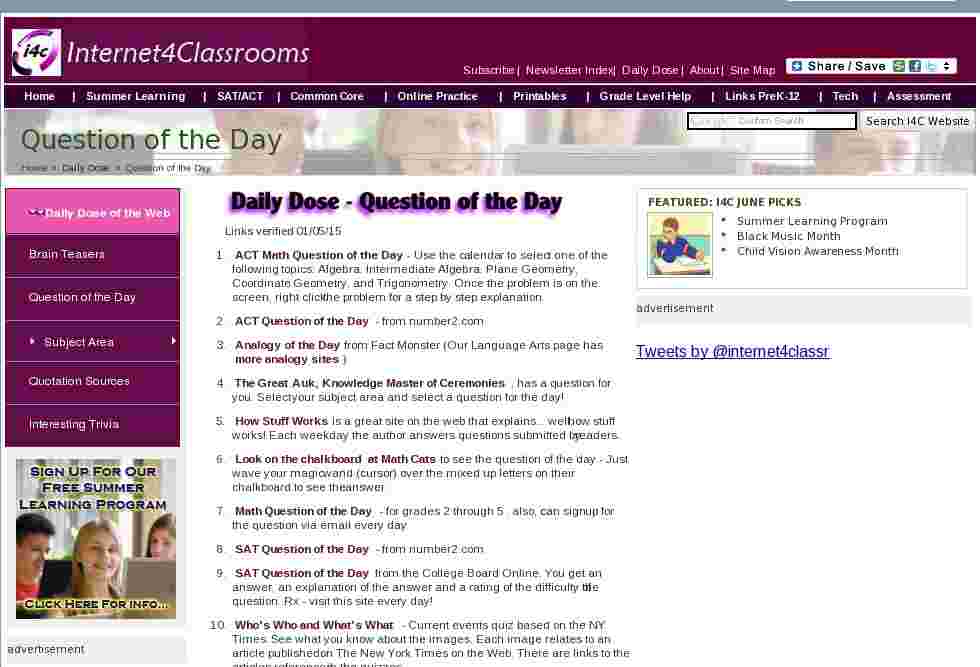 Custom Search