Elementary Math Lesson Plans




Links verified on 8/31/2016




Figure This! - (math challenges for middle school) Great for a morning activity site.
Fractions - many lessons and activities on fractions, from equivalent to adding and subtracting, families participated in math games, literacy activities, crafts, and a create a snack project. Great ideas for other schools to adapt!
Give a Mouse a Cookie - A Family Math and Literacy Night invited families of students in both the Kindergarten and Extended Day classes. All of their activities for the evening were centered around the book If You Give a Mouse a Cookie by Laura Joffe Numeroff. Kindergarten students and their
Hundreds of Lesson Plans - This long page (26 pages if printed) claims to be lesson plans, but some links are math resources not just lesson plans.
Lessons that are fun - Look at the index at the bottom of their page. Put your cursor over any lesson title in the list at the bottom of the page (don't click), and a description of the lesson is displayed.
Math In Daily Life: How do Numbers Affect Everyday Decisions? - A complete math unit from Annenberg CPB
Taming Word Problems - A WebQuest about learning how to solve word problems.
Math Lessons - A collection of elementary lesson plans.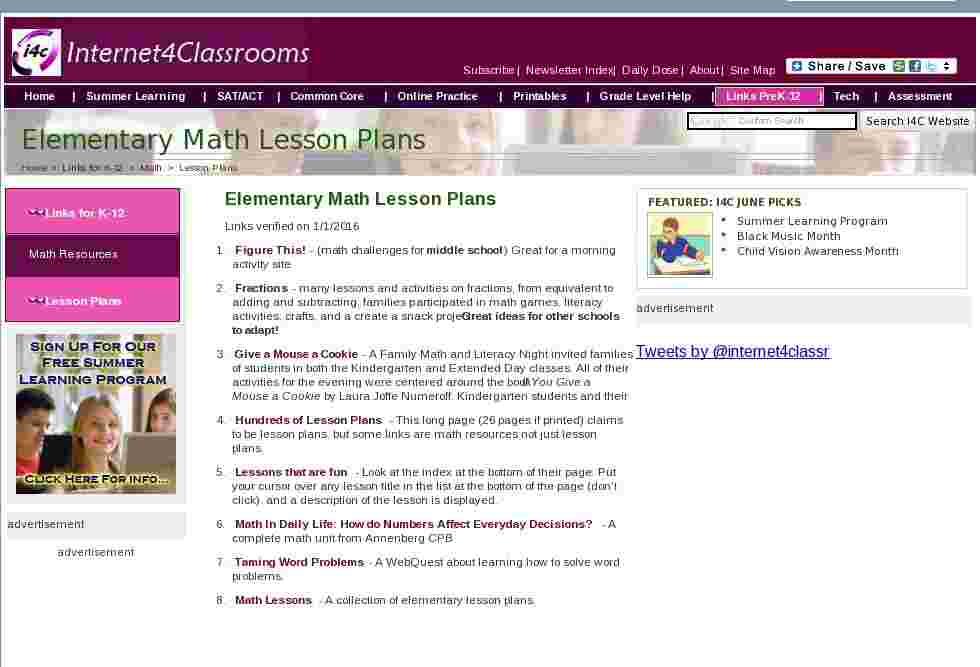 Custom Search