7th Grade - Apply Scale Factor
advertisement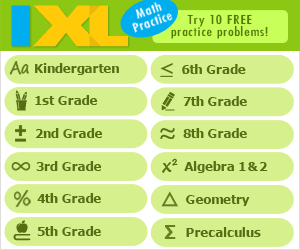 Recognize the applications of scale factor by exploring blueprints, shadow measuring, and scale models. 0706.1.8




Links verified on 6/9/2014




Scale Drawings - After you understand proportions, try the lesson on making scale drawings

Teaching Idea - Use Google Maps to find a picture of an object of known size and from that, the size of other objects nearby. Example: At Wikipedia I found length of a side (each side is 591 ft) and the map coordinates for the Pyramid at Memphis, TN (35 deg 9′ 21.03″ N, 90 deg 3′ 7.49″ W). I then used Google Maps to locate an aerial image of the area and estimated the length of a string of barges in the Mississippi River to be 1740 ft.