Elementary Science - Animals
advertisement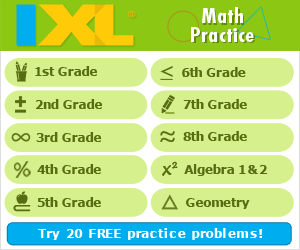 Animals
Links verified 3/17/2019
Amazing Animal Senses

- Here are some examples of how some animals sense the outside world and the anatomical structures that allow them to do so.

Animal Adaptation

- a lesson plan from Science Net Links [

designed for grades 3-5

]

Animal Adaptation

- What is animal adaptation and how are animals adapted to where they live? Let's find out!

Animal Adaptation

- links to 26 animals and questions about their adaptations from the Utah Education Network (UEN)

Animal Adaptation

- matching quiz from Quia

Animal Adaptation

- similar to the "Who Wants to be a Millionaire" game format

Animal Adaptations

- several PowerPoint shows about animal adaptations

Animal Groups

- information about different animal groups; amphibians, birds, fish, mammals, insects and reptiles.

Hiding to Save your Hide

- Lesson plan for grades 2-3

Animal Houses

- a series from Dragonfly magazine. This web pages is no longer maintained. The page is being kept there to preserve some of the early years of Project Dragonfly, to honor the students who created the interactives in the early days of the Web, and because many of the activities are fun and people are still using them.

Animals on Defense

- a web unit on animal adaptations created by pre-service teachers in the Education Department at University of Richmond.

ArKive

- Images of Life on Earth - audio-visual records of the world's animals, plants and fungi [

still images and streaming video available

]

B-Eye

- See the world through the eyes of a honeybee. [this page is from an archive]

Build a Fish

- Build a Fish by choosing a body, mouth, and color/pattern, and then release it into the reef! In the process you will learn about adaptations that help the fish survive in their environment.

Build a Fish

- Build a fish whose adaptations help them survive.

Chickens - a beginners guide to raising chickens at home

ChickScope

- Embryology: The 21-day Chick Lifecycle. How does an egg develop from the time it is laid to the time it hatches? Come explore with us the fascinating 21-day life cycle of the embryological chick

Classifying Critters

- look at animals and match two of the same kind

Claymation Critters

- an introduction to research skills and report writing. Students will select a wild animal to research and write about in a five paragraph report. Students will also create a clay animation of that animal to enhance their report.

Decorah Eagle Cam - *this cam uses ads which much be closed periodically*
Deep Sea Creatures - National Geographic photo gallery

Elephant Quiz

- see if you know the answers to the questions in the red circles!

Energy Pyramids

- a Quia quiz

50 or the UK's Favourite Animals - https://www.premierinn.com/gb/en/short-breaks/where-to-see-animals-in-the-uk.html
Fireflies - what are they and why do they glow [posted by a pest control site]

Fish Features

- An interactive unit for second and third grade sheltered students.

Food Webs

- interactive site creating food webs

Guide to Animal Sounds on the Net

- The Guide presents a large list of links and even a suggestion on how to search for animal sounds.

Habitat Vocabulary

- from Quia (3rd grade)

Habitat Vocabulary Match-up

from Quia (4th grade)

Habitats and Adaptations

- from Quia (3rd grade)

Habitats and Adaptations

- self check quiz from Quia (4th grade)

Hibernation

How Animals Meet Their Needs

- interactive game - students read clues and decide how the adaptation helps the animal

Kids' Planet

- wildlife information posted by Defenders of Wildlife

Life Cycles

- Butterflies, Frogs, Plants, Grasshoppers from Quia (3rd grade)

Life Cycles

- frog and butterfly

Living Things Activities

- an index of interactive activities, lessons, and quizzes from the BBC

and

Niches, Habitats and Ecosystems

- a Quia quiz (4th grade)

Ocean Animal Encyclopedia

- Explore the Oceana Ocean Animal Encyclopedia to learn fun facts and more about your favorite marine life; from sharks and sea turtles to octopus and corals

Ocean Facts and Activities - download ocean activities for kids
Oceans Habitat - a list of ocean animals

Papercraft from Canon

- a long list of animals to print and use in your classroom

Pictures of animals

Archive of animal photos - from National Geographic
The Online Zoo - Over 18,000 photos of more than 2,600 species from zoos and aquariums all over North America and a few other places around the world.

Squish the Fish

- Help Squish travel out across the reef to find his lunch. He needs to find friends who will help him hide from his nemesis, Big Tooth Blob. Learn about shape, color, and behavioral adaptations for survival.

Worm World

- get all the dirt on worms from Wendell, an ace reporter who just happens to be a worm

More animal information can be found on the

Biology

page of Internet4Classrooms.

site for teachers |

PowerPoint show |

Acrobat document |

Word document |

whiteboard resource |

sound |

video format |

interactive lesson |

a quiz |

lesson plan |

to print