Printable Bookmarks




Links verified on 5/30/2016




Blank Bookmark Template

- [scroll down to find the blank bookmark link] let your students express their creativity using pen, pencil, or crayon with this blank bookmark template [

3 to a page

-

.pdf format

]
Bookmark Forge - create your own western style bookmarks.
Bookmarks from Primary Games - In just a few minutes you can make your very own bookmarks. Just print, cut out, and enjoy!
Bookmarks from Dositey - bookmark cut-outs

Bookmark from Professor Garfield

- Three bookmarks
Book Wiggles - cute segmented worms (five to a page) that students can decorate with pencils or crayon [links to more bookmarks and ideas for using the wiggles can be found at their book wiggles page ]
DLTK's Custom Bookmarks - The bookmark can be the same on front and back or you can add a verse of your own and customize the back of the bookmark.
Earth Day Bookmarks - six bookmarks are in this collection
Exclusive Bookmark Designs - six designs are available from John Fisher
Harry Potter Bookmarks - three bookmarks [This expired link is available through the

Wayback Machine

Internet Archive. If the page doesn't load quickly click on

Impatient?

at the bottom right of the page.]
Jan Brett's Bookmarks - many free printable bookmarks from a children's book author
Photos of Animals bookmarks - almost three dozen animal bookmarks from BillyBear4kids
Reading Strategy Bookmarks - two double-sided bookmarks on a page, at Jefferson County Schools
Scarecrow Bookmarks - four bookmarks on this page from abc Teach
Sue Ellen's Bookmarks - eight designs are available from the PBS site devoted to Arthur (they also have a text to Braille translator)
Train your Brain to Read Bookmarks - reminder of the reading comprehension strategies associated with Reciprocal Teaching


Don't Miss These!

Early Learning HQ - hundreds of foundation stage/phase and key stage one resources that are all free to download; resources to assist early years practitioners and to inspire and educate the children whom they teach
Printable Resources For SEN (Special Educational Needs) - Here you will find many, many tools for helping all of your students succeed!
Personal Educational Press - Create free educational worksheets such as flashcards, game boards, and quizzes to print directly from your browser. Make tracing sheets, quizzes, study sheets, word lists, bingo cards, word scrambles, word searches and more!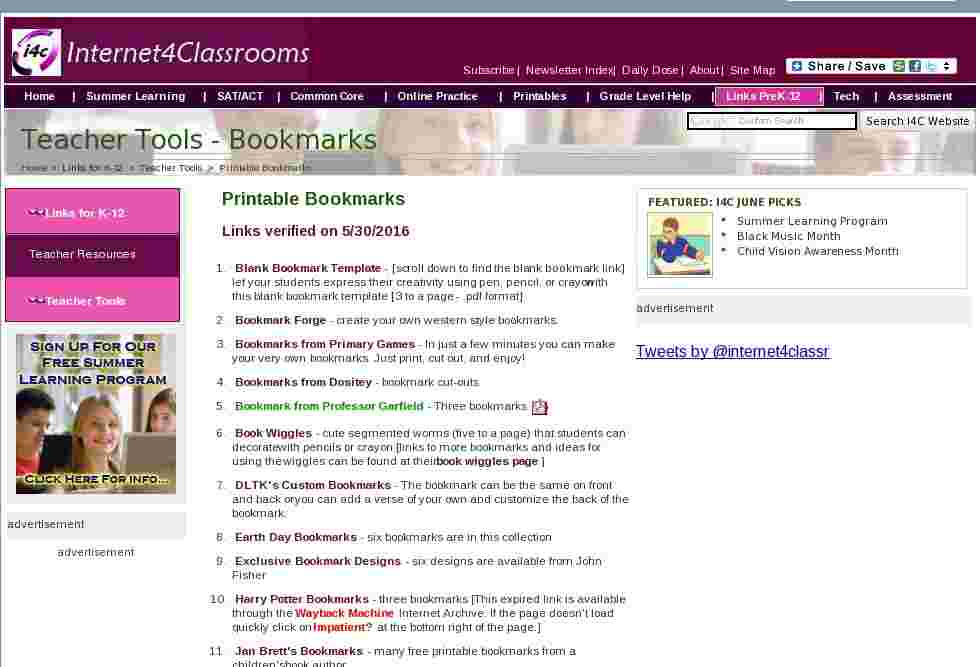 Custom Search