6th Grade - Probability as Ratio
advertisement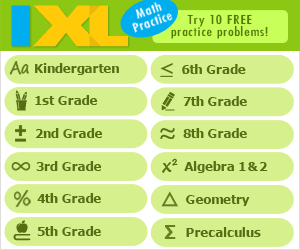 Identify the probability of an event as the ratio of the number of its actual occurrences to the total number of its possible occurrences. 0606.5.2




Links verified on 7/16/2014




Analyzing game probabilities - multiple-choice quiz [

5 problems

]
Data Picking - students collect data, enter tally marks or numbers and then select which graph is appropriate
Figuring the Odds (Probability Puzzles) - twenty questions with answers
Probability vs. Odds Ratio - the difference between odds ratio and probability in layman's language

Probability Workbook

- eight page document to use as student practice worksheets
The Random Ball-Picking Machine - experiment with a random generator at a BBC site to collect data to make decisions about probability.
Understanding Probability - [

designed for 6-8th grades

] lesson plan from Discovery Education
What are Your Chances - What many people refer to as 'good luck' can actually be explained by a little knowledge about probability and statistics. This dice game allows you to see how increasing or decreasing the number of dice rolls effects an outcome.