5th Grade Social Studies Standards - Geography




Links verified on 9/17/2014




Standards




5.3.1
Continents - Locate continents and significant bodies of water (i.e., the Great Lakes, Atlantic, Arctic and Pacific Oceans, Columbia, Missouri, Colorado, Rio Grande, Ohio, Tennessee, St. Lawrence and Mississippi Rivers).
5.3.2
Population Map - Determine America's population shifts by interpreting a population map.
5.3.3
Atlas - Locate information from an atlas entry.
5.3.4
Latitude and Longitude - Locate a major United States city using latitude and longitude.
5.3.5
Tennessee

-

Identify the physical and political boundaries of Tennessee.
5.3.6
50 States - Locate the 50 states using a map with each state outlined.
5.3.7
Three Grand Divisions - Recognize and compare landforms, climate, and natural resources of the three grand divisions of Tennessee.
5.3.8
Climograph - Interpret a climograph.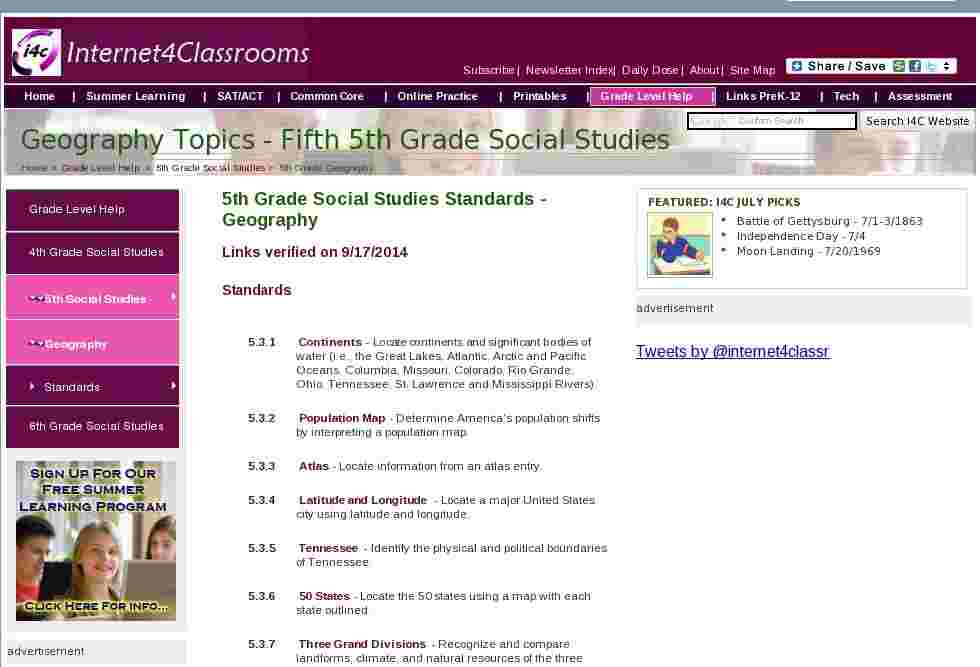 Custom Search