Pre-K Alphabet Resources

Links verified 05/11/2016

ABC - Magnet alphabet video
ABC Mommy and Me - Click on the letters to hear their names.
The ABC Game - Pick the object that starts with the letter shown at the top of each page. This game has 10 questions
Learn The Alphabet - Each letter has its own individual video to learn that letter. Very entertaining for young children. Good repetition of letter sound and name.
Alphabet Antics - Listen to the monkey say the letter. Click on the correct letter. Three levels.
Alphabet Art - A few fun mediums you can use to help your students form letters of the alphabet.
Alphabet Action - Click a letter to hear its name and see a picture.
Alphabet Awareness - from StarFall - click on a letter and hear the name of the letter. When the arrow at the bottom is clicked, the sound of the letter is heard along with a rhyme.
Alphabet Coloring Pages - Many pictures for each letter. Color online
Alphabet Goop - stir the goop and then match what comes out to one of two letters
Alphabet Practice - Listen to the aphabet to learn the sequence of letters or type a letter to hear what it is.
Alphabet Preschool Activities and Crafts - Each letter has a variety of activities and crafts. (heavy with ads and pop-ups)
The Animated Alphabet - Click on a letter on the left and it states the letter and has a movie to go with it.
Letter Blaster - An interactive educational game that can be used as an Assessment Tool to follow a child?s progress in Letter Recognition.
Letter Practice - Dotted pages to print to help trace letters with fingers for recognition.
Magic Mailbox ABC's - Click to see what letter is hiding in the mailbox. random letters pop out and are pronounced
Online Alphabet book - see the letter and a pictures to associate with it. No audio
Printed Alphabet activities - Cut letters into pieces for a center time activity. Put a letter train together in correct order. Many other activities
Pick a letter and hear its name - Click on a letter and hear the name of the letter;see a picture of an object that starts with that letter.
Sunnie's Letters - Segments of letters so child is not overwhelmed. Match picture to beginning sound after identifying set of letters.
a site for teachers |

a PowerPoint show |

Adobe Acrobat document |

a Word document

sound |

video format |

interactive lesson |

a quiz |

lesson plan

|

to print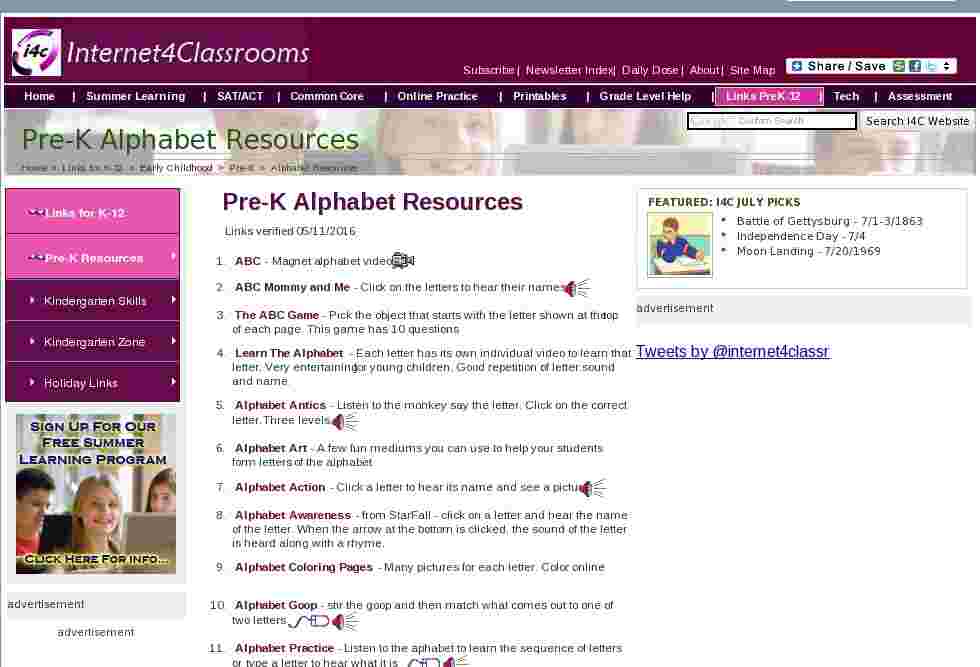 Custom Search