8 iPad Apps to Assess Student Learning

Teachers strive to teach something to their students in the best way that they can, no matter what the subject. If you are a teacher, you know that assessing your students is no less important than presenting new information or discussing something with the class. You have to figure out how well the students actually understand the material that is being taught to them, and that's a great responsibility. From the assessment, you can draw several conclusions and the actions that you need to take accordingly. For example, if less than half the students in your class are learning the subject well, then you might need to change your teaching methods and strategies to make sure that more students understand what you are teaching them.

Assessments with pen and paper can be quite time consuming and you might not get the motivation to do them regularly. This is where the technology comes into play; you can use your iPad to assess your students very easily in different ways. Your students will also actively participate in the assessments because of the common use of technology these days. There are a lot of apps helpful for assessing students and we have listed the best ones that we found:


1. Socrative

This is a really great and time-saving app for assessing students. You can make a quiz in the form of multiple choice questions, true/false questions or short answer questions and you can instantly get the results. The best feature of this app is that it assesses each student separately and will grade the students for you. The app can calculate individual scores of the students and also calculate the group score. There are two versions of this app; one for teachers and the other for students. Your students need to have the students' version of this app installed on their device for this app to work.


2. Plickers

If you are looking for something that makes assessment easy without the need of having the students use their devices, then Plickers is the right app for you. It's really simple; you will need to have the Plickers cards printed and assigned to each specific student. You will then put the names of the students with card numbers on the Plickerswebsite. After that, you will select the question you want to ask on your device and then students will use the Plickerscard to answer the question. You will then scan the students' responses through the Plickers app with your device's camera. It will assess and display the results instantly. It will also upload the data on the website so that you can review the results at a later time.


3. Kahoot!

Kahoot! is an amazing app which is capable of changing the dynamics of the student learning process. You will really want to use it if you want to engage your students more in the subject. All that you need to do is to create a game that is fun and is related to the syllabus at the same time. After that, you should have your students install the Kahoot! app on their devices. Each student will answer separately on their device while the questions can be displayed on a larger screen in order to create a united environment. In the end, the app will assess all the students and then list the top ones. This will make students compete with others and they will ultimately learn more.


4. EDpuzzle

Ever wanted to display videos in your classroom that are interactive and have questions, comments and audio added to them for clarification or any other purpose? EDpuzzle is all you need. This app allows you take any video from the internet and then edit it according to your liking. After creating a video, you can assign it to your students. They will need to have the EDpuzzle app on their device, create an account and then add the class code. Then they will be able to access the videos that you assign to them. When they watch the videos and answer the questions, you will be able to see them through the app.


5. YAKiT Kids

This app is great for keeping little children interested in studying. The main function of this app is to give a chance to kids to use their creative skills by recording a video with their own voice but you can use this app efficiently to assess the reading fluency of kids. Kids can use this app to make videos with their own voices and they have a variety of options to edit the videos, for example, changing the pitch of their voice, adding special effects, props and characters. So, when students record their voices, you will be able to check their fluency.


6. PickMeBuzzer

This is a handy app if you want to ask post-lesson questions in order to assess the level of understanding of the students in your classroom. Firstly, you will need to create a game comprising of the questions that you want to ask and then project your device's display on a big screen. The app will only convert your student's device into a buzzer. The one who buzzes first will be given the chance to answer the questions and the scoreboard will also be displayed but you will need to update it yourself. The app also has the option of converting a single device into a buzzer for five different players.


7. Strip Designer

Strip designer is an app for creating comics from your photos. Users can find a lot of templates for creating a comic from this app. The app gives you complete control over the fonts, text balloons and the pictures you want to add to your comic so you can edit them according to your liking. While this app is for creating comics, students can utilize it for showcasing their knowledge and create comics about historical places or events, science or any other topic that they want. So, you can use this app to assess what kinds of interest a particular student has or you can ask them to make a comic about any particular topic that you have taught them to assess how much they learned.


8. Toontastic

Toontastic is used for creating animated stories and is a great app for any storyteller. Users can draw and create their own characters and put them into an imaginative story that they want to create. There are loads of options and features that are handy and fun at the same time. You can use this app to assess the knowledge of your students about biographies and non-fiction events. You can also come up with a project and ask them to try and make something creative through this app. It will keep the students interested and engaged.



About the Author:

Nicole Hall is a content strategist for educational projects (i.e. Do My Homework). She is also actively participating in the discussion club for students aiming to help them with questions of learning, productivity, motivation etc.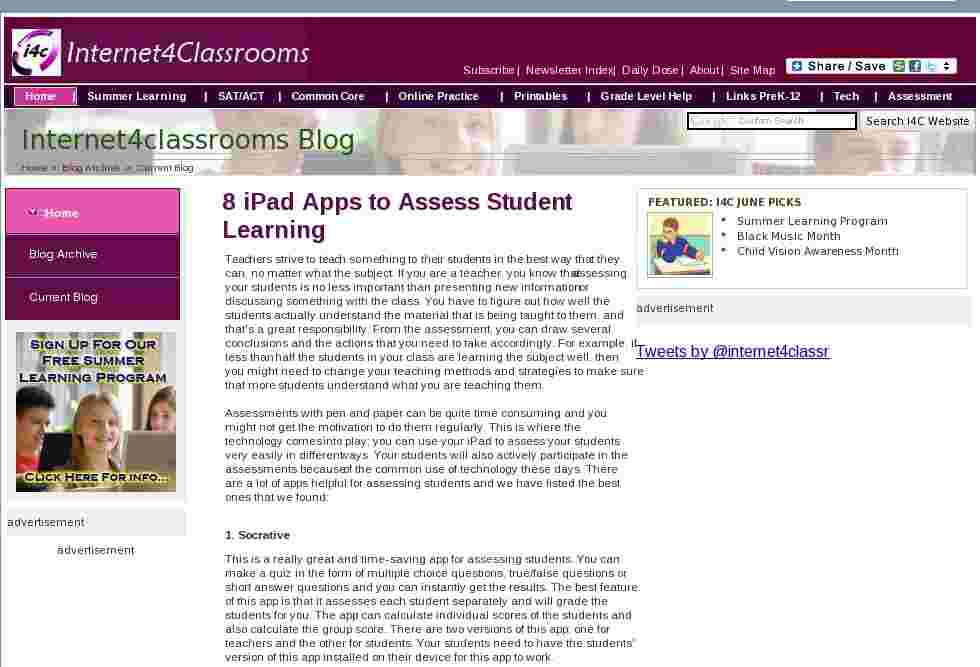 Custom Search