Egads, a Snow Day!





Winter has definitely been noticed this year. The "Snow Day" seems inevitable. As educators and parents, we hate to see an educational day go to waste.

Here is a compilation of sites that have excellent ideas for a snow day:

20 Fun Things To Do On A Snow Day: This article has great ideas that are creative and will compete well against children's and young teens' desires to sit in front of the TV, play video games or be engrossed with social media applications.

Snow Day/Winter Crafts: Pinterest is full of great craft ideas and visual inspiration for amazing things you can do with basic items from around the house. Sherry Budnik Arp's Snow Day/Winter Crafts board is a great example.

Winter Ideas and Activities for Kids | Spoolful: Spoonful is a Disney website geared to making the most of every day. In their words, "Spoonful aims to provide guests a daily dose of inspiration, helping you add a little magic to the everyday." Their winter page contains sections for crafts, printables, recipes, "all things snowman", fun & games, and Disney themed activities.

Best Outdoor Snow Activities: Exercise and activity are still just as important when the weather seems to not want to cooperate. Erin Dower covers 10 suggestions for things to do outdoors that are fun and have good exercise characteristics. Just have that hot cocoa ready when they come back inside!

Snow Day Activities at WomansDay.com: This is another great compilation of activities. We love the idea of trying to recreate great snow sculptures. We found a bunch more of them here. Make a big contest out of it and really tap the artistic talent of your kids with snow: a monochromatic sculpture material. Combine that with the idea of using food coloring from the other pages we reviewed and you could create a 3-D masterpiece of just about anything in the snow in full living color.

8 Fun Activities for the Snow Day Blues: We really like the idea of hosting the Winter Olympics in this list by Mary McCoy. We have a bunch of gold medals from the dollar store that get recycled every Winter and Summer Olympics just for this purpose. Have the kids pick a country, make a banner and flag, and then parade around for the opening ceremonies - Olympics theme music and national anthems are available from many websites. A stool or a simple platform can create a memorable medal ceremony between each event.

Hang in there! Spring will be here before you know it. Make the most of every day, even if it's a snow day.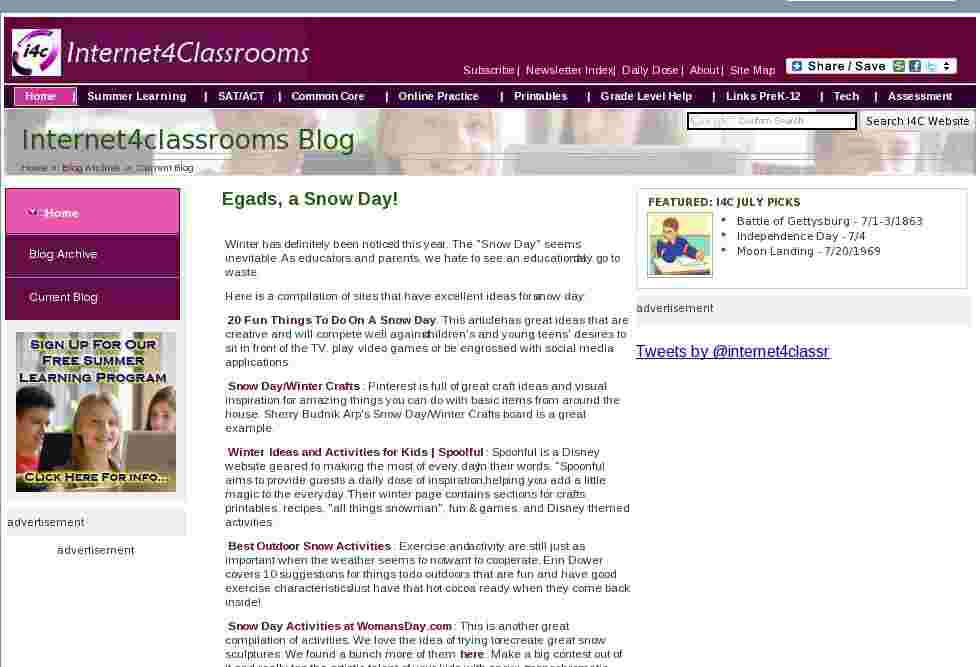 Custom Search