Resolutions You Can Keep

by Internet4classrooms.com



It's 2012 and you have half a school year left. Forget the common resolutions of drinking more water, flossing every day, and shedding a few pounds. Make a few promises to yourself and your students that can improve your classroom and your teaching spirit.


1. Don't give up! Be patient with the student who's falling behind. Whether he/she is trying hard but still failing, or not trying at all, put aside your frustrations and continue to make a difference in that child's future. You are in a very powerful position. You can offer that gentle push that he/she just might need. If you are confident you are doing all that you can possibly do, then you are fulfilling your role.

2. Try new things! Be open to more creative approaches and technology, which can accompany your lesson plans and offer interactive learning. It's also a good way to get students involved in current events.

3. Study up! Make a point to read education and teaching articles. You may find new techniques and tools to improve your teaching experience.

4. Accept the bad days! Yes, you had a bad day. Leave that day's negative energy when you leave the room. You can start fresh in the morning with a new attitude and new approach.

5. Sympathize with your class! Envision yourself as a student when your frustration mounts and you are ready to burst. It may offer a little bit of a reminder of the pressures for both you and them.

6. Don't procrastinate! Don't put off grading tests and assignments. You'll feel better getting it done.

7. Find me-time! Make time to focus on yourself at least 30 minutes a day.  A happy teacher equals happy students.

Happy New Year!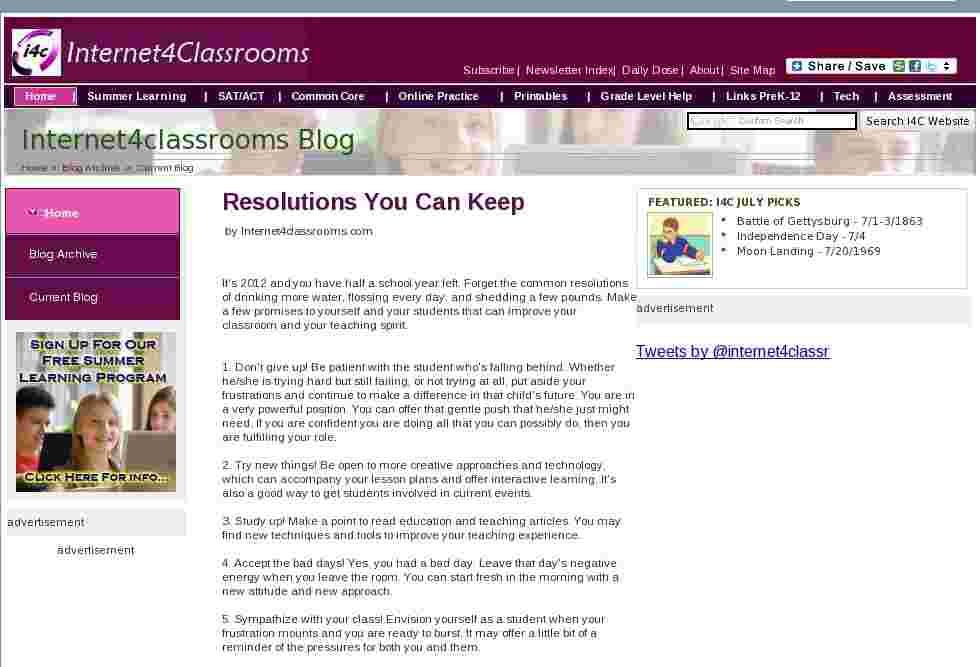 Custom Search