How to Help Classrooms In Need

by Internet4classrooms.com



Teachers are always in need of classroom supplies, from large items like bookshelves to what you may think are simple items like pencils and paper. There are quite a few online donation sites, but these three that are featured are ones that stood out to us.


1.) www.adoptaclassroom.org
How it works:Teachers sign up to create an account, log in, and enter in their classroom needs. They write a brief description of what their classroom needs and why. As a donor, you can look up almost any public or private school by name, city, state, or zip code and choose to whom you want to donate. There are advanced criteria as well, if you'd like to search by school subject, cost, poverty level, etc. When you are searching for a classroom, there are summaries on the left-hand side that tell you how many are registered in that area, how many have been adopted this year, adopted since 1998, and how many funds were donated this year and since 1998. You enter in your amounts and payment information online once you've chosen your classroom.

The teachers are given the money through an e-account and can purchase their wanted items through Adopt-A-Classroom's affiliated vendors online. The items are shipped to them directly and become school property. Donors and teachers communicate during the school year, receiving thank you's, artwork, and the opportunity to participate within the classroom you've chosen. You can donate to as many classrooms as you'd like.
Pros:

You have the option to donate to both public and private schools.
A donor has the opportunity to be active within the classroom and remain involved as long as he'd like.
There is no "actual dollar amount needed" that is defined in the classroom listing. So in theory, the teacher can raise as much as he or she'd like.
100% of your donation goes to the teacher.

Cons:

There is no type of teacher registration validation. There are terms and conditions you have to agree to, but no teacher verifiable agreement. Meaning anyone (theoretically) can claim to be a teacher at a particular school and type up a "need" for donation money.
There is a minimum donation of $25.00 to any classroom.
There is no posting date. The only date that we saw was the donations since 1998 status on the left-hand side. Once you find a classroom listing, who's to say how old the posting is, if the teacher is still in need of money, or if they're checking the listing/email address currently? It was a bit confusing. Postings don't seem to "close" or appear "fulfilled."
As opposed to other sites, there is no pre-order form in their classroom posting. They simply describe what they'd like to buy. You can't see the specific items desired, the cost, nor vendor information up front. So a donor can't be exactly sure what the teacher is going to purchase until the money is given and his or her order is placed. The one thing you can be sure of is that it will be school materials-related because you know it's being purchased from only Adopt-A-Classroom's vendors.


2.) www.donorschoose.org
How it works:The process is similar to above. Teachers create accounts and post their "projects" online. Donors can "view projects" a number of ways. A clear list of recent projects comes up when you click on the "Projects" tab. There are also advanced criteria searches on the right, where you can choose by city/state, school, subject, poverty level, urgency, popularity, and beyond. Can't decide who to donate to? There is a feature that allows you to donate to the most urgent project, chosen by DonorsChoose. In contrast to the Adopt-A-Classroom's description of a teacher's class needs, DonorsChoose requires each project be specific. When a teacher posts a need, they must place their order up front similar to a grant, so that the posting shows the items, their cost, the quantity desired, and where the teacher is buying it from, all in the project listing. Any donor can see a total dollar amount needed to complete the teacher's request.

As donors submit money, you can visually see the total dollars earned and the remaining balance left in order to complete the project. When the goal is met, teachers go to donorschoose.org's online store of affiliated vendors and place their order online. The materials are shipped and become school property. The donor is sent pictures, thank you's, and letters in correspondence to keep him or her updated. The project is closed.
Pros:

There is no minimum donation.
You must agree to their conditions and terms for teacher/project enrollment and confirm you meet the teacher requirements. You can not be a

principal, administrator, staff developer, substitute, or student teacher and must work full time.

The projects are very specific and in a sense pre-ordered, so you can see the exact items that will be purchased with your donation.
The website is very user friendly and easy to navigate.
The option to donate to the site as a whole for the most urgent projects is a cool feature if you can't narrow down your choice.
There are a lot of extras on this site - from wedding registries and birthday wishes to blogs and honoree donations.

Cons:

This website only applies to public schools. If you are a private school you can not register.
Remember: You must be a full time teacher. Principals, administrators, staff developers substitute and student teachers are not permitted to create projects. Therefore a poster's qualifications are limited.


3.) www.iloveschools.com
How it works:This is another donor/classroom supporter site, using the same technique to search for a classroom/teacher wish list through a criteria search. HOWEVER, it encompasses a whole lot more when it comes to providing classroom assistance. You have the ability to do quite a few things with this site. 1.) As a teacher, school, or district - you can create a wish list. Every teacher gets their own homepage and web address. Shop through iloveschools' online store to find the items you need and quantity and build your list. Your "order" is published so that donors can view the item, quantity, and cost. You get the same dollars donated vs. balance left visual as DonorsChoose. When the wishlist has been funded, iLoveSchools places the order and has the goods delivered. 2.) Be a classroom friend and create a web page for your school or class. This is a really great way to get the word out about your needs. 3.) Post a donor offer. This is a wonderful way to recycle goods and fulfill classroom needs all at the same time. Have gently used or new items you don't need? Post a donor offer on iLoveSchools with a description, estimated value, delivery option, and contact information. Get responses from schools in need and neighboring districts. You get to choose who to pass the donation to. Everyone wins!

Can't decide which project you like the best? You can donate to ILoveSchools two ways: a) donate XX amount of dollars to a teacher/classroom iLoveSchools selects, or b) donate directly to iLoveSchools to help them cover administrative costs.
Pros:

In contrast to DonorsChoose, the qualifications of applicants who want to register and create wish lists are defined by a wide range of titles, from homeschool parents to librarians for grades pre-K through 12th. Also included are after school program staff as long as they follow specific curriculum.
We love all of the different options on iLoveSchools and its user friendly site, including a blog that keeps people informed.
The donor offer feature is a wonderful way to re-gift and provide assistance to our educators.
According to their site, they have an option coming soon where you can print flyers about your wish list for another way to publicize the need.
Both public and private schools can post wish lists.

Cons:

It can be difficult to find the feature that actually allows someone to create and start a wish list. Put your mouse on the "home" tab in the top task bar. Slide your mouse down to the last topic titled "educators" and click to get started.


Donations of money or supplies are always helpful to an educator, especially in the current economy and budgeting crisis within school systems. Parents may often wonder, well how can I really help? Or how can a pack of crayons really make much of a difference? These sites prove it does take a village, and your support can help provide a better educational experience for our kids!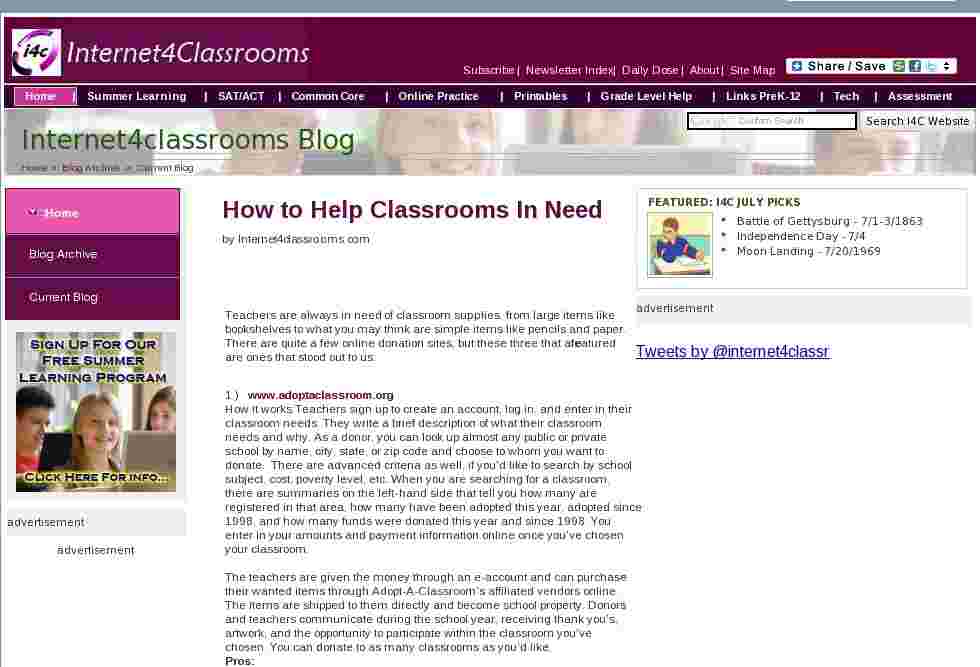 Custom Search