Kindergarten Language Arts Skill Builders
advertisement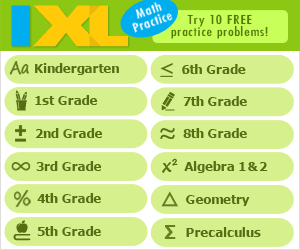 Recognizing Dolch Words - CCSS RF.K.3.c




Links verified on 10/25/2015




Exercises and Games

Catch the Letters - Catch the letters in the correct order to spell the word. A fun game to help practice dolch word spelling and review dolch word vocabulary.
Dolch and Fry Sight Word Games - A collection of 12 games! Click the screen twice to choose a game.
Dolch Sight Words - From Spellingcity.com. Select from List 1, List 2, List 3 or List 4 and select an activity. Activities include a teaching tutorial, spelling test, vocabulary test, flash cards and an interactive game.
Dolch Word Games - Eleven word lists available that cover almost all 220 dolch words! Numerous games to play including: listen and spell, listen and match, jigsaw and find the word.
Drag and Drop Sight Words - Drag the picture to the box with the correct word.
Go Fish! - Click play to begin and then select the easy level. Click on the fish that have the word Kylie the Seal says to click on.
High Frequency Words - Six activities using sight words. Complete each sentence by dragging the correct word to the blank.
Make a Match - Click on the matching words. Audio of word is given to ensure student can recognize word.
Pre-Primer Jigword Game - Click on the "listen" icon to hear the word, then drag the same word to match what you hear. Advanced mouse skills needed for this game.
Pre-Primer Memory Game - Click and listen to the word spoken, then find the matching word.
Primary Dolch Definitions Match - Connect the words on the left to the matching definition on the right.
Sight Words - Use this pre-primer dolch word list to practice sight words. Click on the word and hear what it is.
Sight Word Videos - [scroll down to find these videos] Use these YouTube videos to practice sight words. (e.g. you, to, the, and)
Sight Words: McGraw-Hill - Quia games for Kindergarten sight words. Activities include flash cards, matching, concentration and word search.
Sight Words with Samson - Samson reads the word and uses it in a sentence to assure understanding. Learn the words, build the words, identify the words and a quiz. Excellent game.
What's the Word? - Click on the word that describes the picture. Select Alphabet (Easy), Animals, Fruit, Tools, Machines, or Shapes to begin the game.
Word Search - Online game that features many of the first 100 sight words young readers are required to master.