7th Grade Interactive Language Arts Skill Builders
advertisement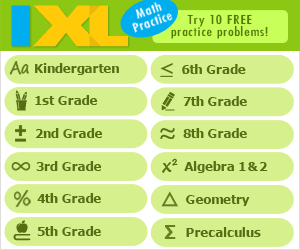 Online Reading Skills - CCSS RL.7.10, RI.7.10




Links verified on 10/29/2015




English Learning Resources - use this EFL site to practice reading comprehension.
Mini-Stories with Cloze Reading Passages: Ten minute timed quizzes - Story 1 || Story 2 || Story 3 || Story 4 || Story 5 || Story 6 || Story 7 || Story 8
Online Lessons - Includes the above mini-stories with cloze exercises, but also has speed reading exercises and lessons for extensive reading, science reading, reading/listening and a text adventure game.
Practice Reading - [Not Interactive] Two 7th grade passages to read and answer questions about. When finished, print the page and give it to your teacher.
Reading Comprehension Online Quizzes - (Ignore the foreign characters, this is the right page) Choose one of the nine lessons from the left frame and test your reading comprehension.
Science Reading Practice - Each paragraph is on a different screen and some of the difficult words are defined. After reading the article there's a short vocabulary quiz.
Speed Reading Test Online - When you are ready, click on the Start button. Read all the way to the bottom and then click on the Done button. You will get a report of your reading speed.
Books to Read Online - No quiz is available from the links below, but you can find books to read online.